We welcome you to Sealegs' Eco-adventure Centre at Transfer Beach. The safety of our clients and staff is a priority for us.
We offer a variety of tours for all levels of kayakers, from 1 hour intro tours to 2 and 4 hour Wildlife Tours. For more information about the tours that we offer, choose from our Day Tours or  Full Moon Tours below:
Day Tours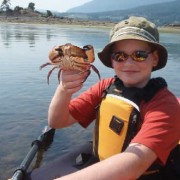 Paddle the beautiful sheltered waters of Ladysmith Harbour on our intro tour, Wildlife Tour, Elliott's Beach Tour, or Full Moon Tour.
APPOINTMENTS only for sales, tours, lessons and rentals
June openings: Wed to Sunday 9:30-4
July openings: 7 days a week 9:30 to 5 pm – weather permitting and based on appointments/bookings
We have a 'no dogs allowed' policy in accordance with our town's local by-laws
Kayak Rentals
Exploring Canada's west coast by kayak is an extremely peaceful and colourful way to see BC's wildlife, sea life and coastal mountains.
Choose from our single and double sea kayaks or sit upon kayaks.
Stand Up Paddle Board (SUP) Rentals
Stand up paddle boards are the hottest new water sport trend. Our bay is perfect for paddle boarding. No sea planes, we're in protected waters and there is very little current.
Kayak Gear Rentals
Sealegs rents paddles, PFD's, dry bags on an hourly or day basis
With every rental at Sealegs Kayaking you receive:
A complimentary introductory lesson
Safety review
PFD, paddle, pump, paddle float and throw bag (safety gear), where applicable
Our guide team will help you carry the boat to the water's edge, stabilize the boat while you get in and help you get out of your boat upon your return to shore.
Sealegs' rental fleet boats are more than 'just rental boats'. Our guests and staff treat the fleet with respect. What this means to our guests is safe, clean boats that are desirable for re-sale.
Most of our used boats are for sale throughout the year. We have a great selection of new and used kayaks, SUP's, recreational sit-upon kayaks and fish boats. Please give us a call to book your sea trial rental or to come to the beach and look at the possibilities!